D-VM 18
Vacuum mixing unit
50 individually programmable programs up to 15 working steps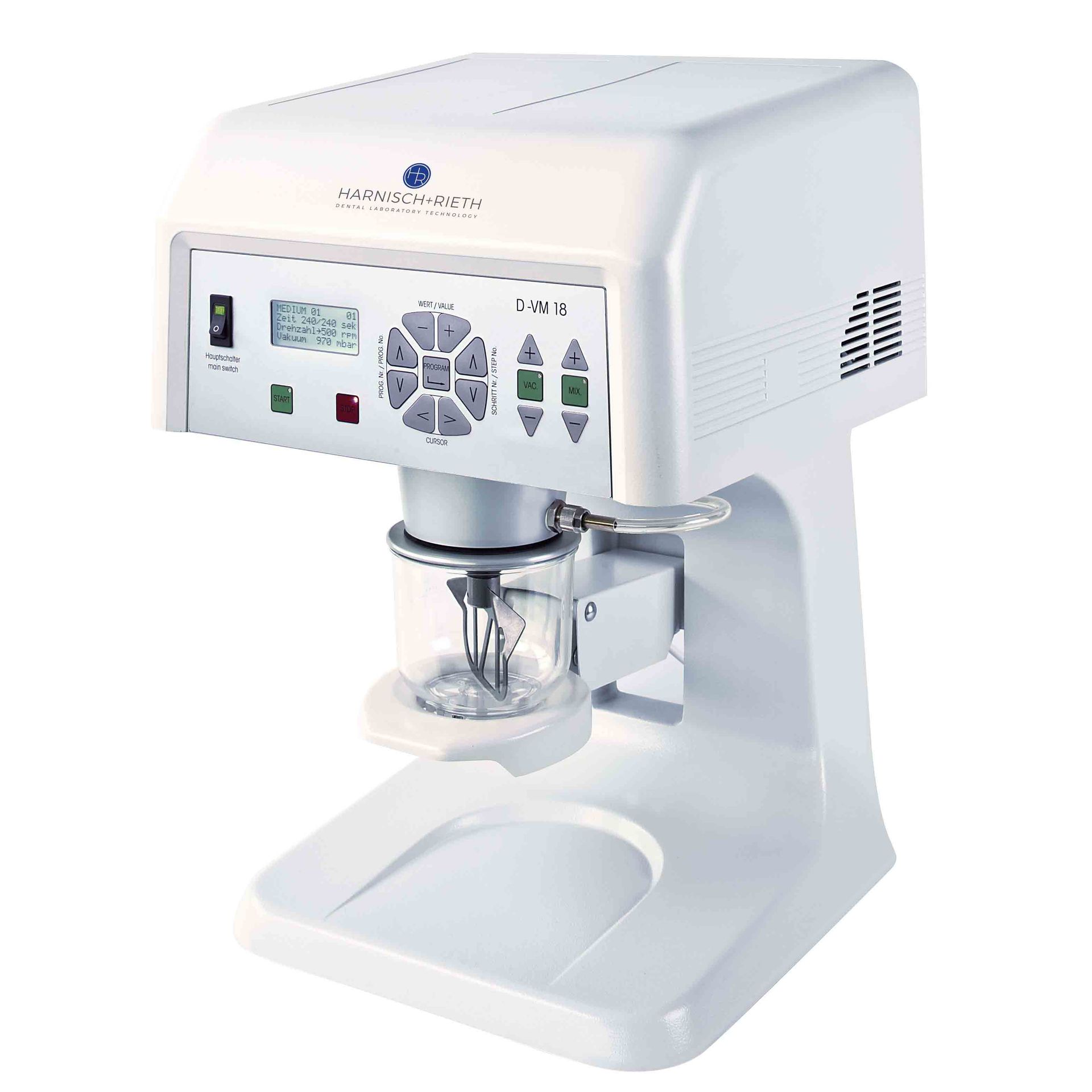 1
Beim Hochfahren der Mischbecher werden die Rührwerkskupplungsteile selbsttätig ineinander geführt und gekoppelt.
2
Ein robuster 300 ml Acryl-Mischbecher mit Metalldeckel und Rührwerk ist im Lieferumfang enthalten.
3
Der große Ansaugvorraum und die 3-fache Filter-Absicherung (Vorfilter, Hauptfilter und Nachfilter) garantieren eine absolute Funktionszuverässigkeit der Doppel-Kolben-Vakuum-Pumpe.
4
Startet den automatischen Ablauf des jeweiligen Rührprogrammes.
5
Informiert über das ausgewählte Rührprogramm und den fortgeschrittenen Arbeitsablauf.
6
Automatisches Filtertest-Programm zeigt die Sättigung der Ansaugfilter an. Die Feinstfilter sitzen außen am Gerät und sind einfach zu wechseln. Tastatur zum Abruf eines der 12 Rührprogramme.
7
Vakuum-Taste zieht nur Vakuum ohne zu rühren(z.B. zum Wässern von Modellen). Mix-Taste nur zum Rühren (ohne Vakuum).
8
Ein schwerer Fuß aus Aluminiumdruckguß gibt dem Tischgerät eine optimale Standfestigkeit.
Description
Investment material, plaster and silicone are processed by our highly developed D-VM 18 vacuum mixer under optimum conditions. An exceptionally powerful vacuum compressor and a highly robust and powerful agitator motor along with 12 individually storable agitation programs satisfy the highest quality level demands in day-to-day practice.
Details
Automatic sequenceThe filled agitator cup is automatically coupled to the agitator drive by a pneumatically assisted lifting device and pressed onto the sealing surface. Using the start button, the previously selected agitation program is initiated. Dependent upon the type of program, the maintenance-free, high-power double-piston pump quickly reaches a vacuum pressure of 980 mbar. After the mixing process is complete, there is a short sound indication and the agitator switches off. The vacuum pump continues to operate until the stop button is pressed, which at the same time initiates the metered, speedy flooding of the mixing cup.
Programming
The agitation programs are simple to select using the keypad on the operating panel. In addition to agitation time, rotation direction and speed, it is similarly possible to independently adjust the vacuum.
Motor and pump
At the heart of these units is the powerful, robust geared agitation motor as well as the maintenance-free high-performance double-piston vacuum pump, which quickly generates a vacuum of 980 mbar.