P-G 400
Spot blasting unit
Available with up to four blasting units.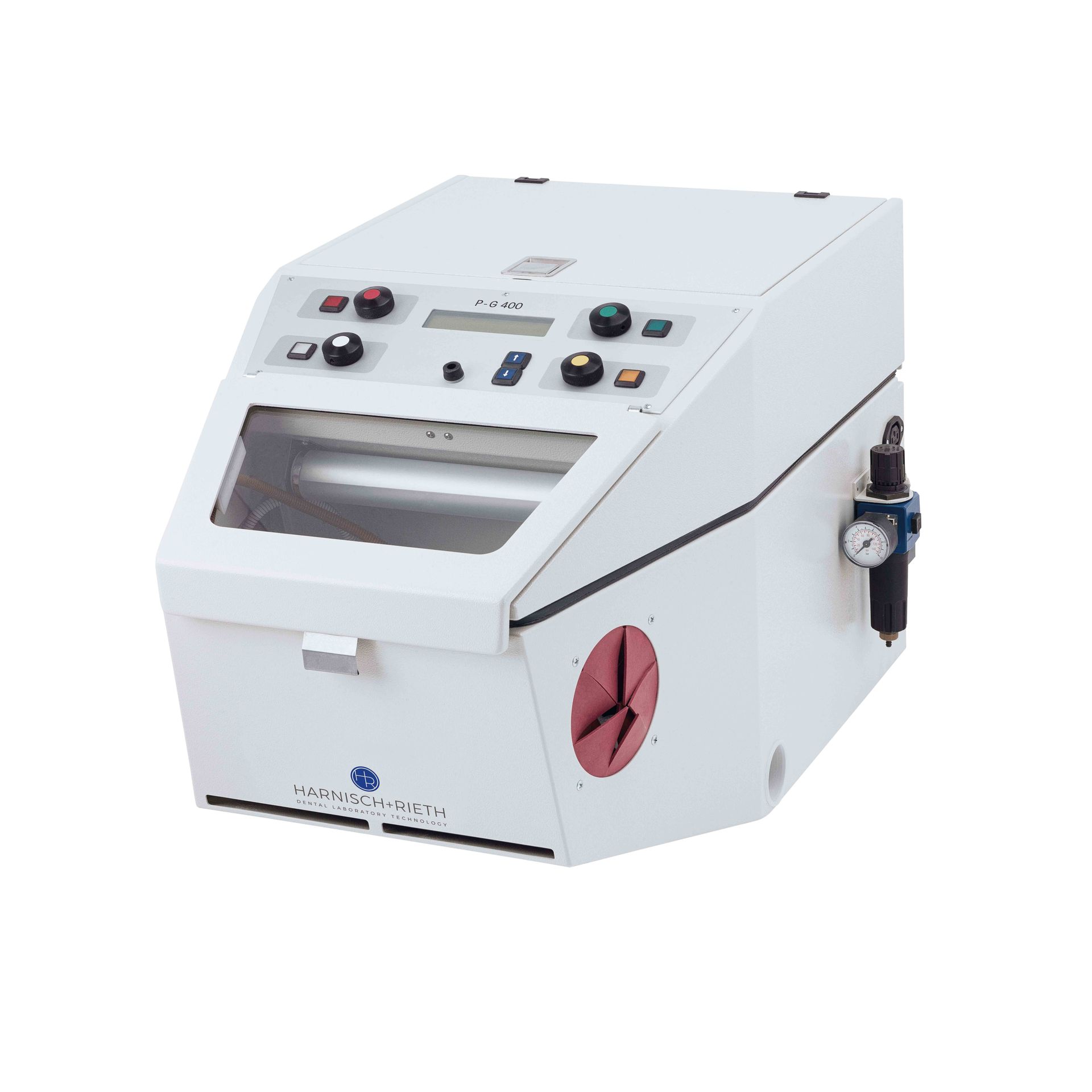 1
Perfect air-flow conduction keeps the work area permanently free from dust and sand.
2
A practical outlet nozzle is attached and ready to hand. The spacious blasting chamber ensures freedom of movement and is excellently lit by a very bright, flicker-free strip light.
3
Clearly arranged controls and indicators ensure user-friendly working. The blasting pressure and supply of blasting material
are easily and precisely adjusted individually for each blasting system and shown on the display.
4
To ensure perfect functioning of the unit, a water separator with a pre-pressure regulator, manometer and micro-filter is fitted.
5
An extraction unit can be connected on the left or right side as required.
Description
Our P-G 400 spot blaster has been designed and built to meet the highest standards in metal and precious metal ceramics and in plastics technology. The robust, steel plate design and exclusive use of proven components ensure a long service life.
This spot blasting unit is modular in design. It can be fitted with two, three or four blasting units. Blasting material of 25 μ to 250 μ can be used without difficulty (polish blasting material, aluminium oxide and special blasting material). It ensures optimum adhesion conditions for bonding ceramics and plastics onto metal and precious metal, whatever the technique used.
The unit is particularly suitable for blasting before coating, polishing, removal of oxide and ceramics residue after baking, as well as for designing veneers and preparing ceramic chewing surfaces.
Details
Each blasting unit consists of a blasting material container with vibration mixing chamber, and associated blasting hose with hand piece. The sand jet is precisely initiated and stopped by an electro-pneumatic closure device activated by the foot switch.
The sand blasting unit has infinitely variable dosing and pressure regulators, which control the quantity of blasting material and the blasting pressure in the vibration mixing chambers. An absolutely uniform and reliable sand jet is
available above a working pressure of 0.5 bar. If the blasting material in the container falls to the reserve level, the relevant signal light on the panel flashes.